Home
Major work to begin next year
Construction company John Holland has been awarded the first major Metro Tunnel contract.
The contract includes excavating massive shafts in the centre of Melbourne as part of preparations for the tunnel and the new underground stations in the CBD.
Work on the stations shafts will begin next year, following the conclusion of Environment Effects Statement (EES) process currently underway and formal planning approval for the project.
Metro Tunnel to benefit jobs and economy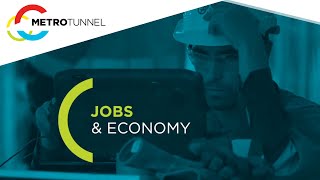 The Metro Tunnel will boost job opportunities not only for Victoria but also nationwide.
Economy-wide modelling demonstrates that the Metro Tunnel is expected to create approximately 4,700 jobs nationwide at the peak of construction.
Watch our video to learn more.
Works in your area
We are carrying out works across the alignment to gather further information about ground and environmental conditions to ensure that we have the best, most up-to-date information available to plan and build Melbourne Metro.
See the Works in your area page for details of works planned and underway.
Other languages
For information in your language please call our Interpreter Line 03 9280 0700 or you can read our Multilingual resources.
Stay informed
Use our contact form to subscribe to email updates.
Follow us on social media: